---
June 27, 2019
Kish Bank Community Celebration Honors Local Difference-Makers, Looks to Future of the Arts in the Region
---
May 28, 2019
Network including Center for Science and the Schools joins global STEM ecosystem
---
January 5, 2019
"Makuary" at Discovery Space helps kids with STEM
---
October 8, 2018
Discovery Space Is a Community Gem — For Kids and Adults
---
May 19, 2018
STEM program continues to empower fifth graders
---
April 26, 2018
Discovery Space empowers 5th graders through STEM career awareness program
---
April 23, 2018
Elementary education majors host children's arcade at Discovery Space
---
February 20, 2018
See how we engage adults in science through Science Pubs
---
October 1, 2017
Discovery Space opens in new location!
---
August 2, 2017
Teaching science made easier because of TESLA organization
---
June 26, 2017
Discovery Space hires local fundraiser for capital campaign
---
June 13, 2017
STEM committee seeks new members
---
April 15, 2017
Discovery Space Moving to larger location
StateCollege.com
Centre Daily Times
---
February 28, 2017
Discovery Space names new interim director
---
February 2, 2017
Central PA Live visits Discovery Space
---
November 29, 2016
Bellefonte girls enjoy exploring plant biology
---
November 27, 2016
Students engineer new exhibits for Discovery Space
---
October 30, 2016
Discovery Space scares up some science
---
October 13, 2016
Night to Discover fundraiser held at country club
---
October 12, 2016
Research project brings STEM education to rural families
---
July 28, 2016
Rock 'n' Weather at Discovery Space
---
March 13, 2016
Discovery Space participates in SpikesFest
---
February 1, 2016
Afterschool learning and fun
---
January 2, 2016
Make-uary event at Discovery Space
---
August 30, 2015
Maker Week activities
---
June 30, 2015
Discovery Space camp shows girls the ins and outs of science.
---
February 2, 2015
State College Borough considering Discovery Space's proposal to occupy the former Verizon building.
---
December 28, 2014
Visitors to Discovery Space enjoy 'Make-uary'!
---
December 12, 2014
Centre County Report video outlines how Discovery Space impacts young lives.
---
December 4, 2014
Discovery Space extends science learning past the school bell with afterschool science programs!
---
September 19, 2014
Allayn Beck named as Discovery Space Executive Director!
---
July 24, 2014
Penn State students use Origami to introduce engineering concepts to girls during Discovery Space's "Exciting Endeavors" camp.
---
July 20, 2014
We are very thankful to Rotary Club of State College Downtown for their continued support of Discovery Space!
---
July 18, 2014
Columbia Gas of Pennsylvania, Inc. shows its support for science education in Pennsylvania by partnering with Discovery Space, and launches this effort with a generous contribution in support of STEM initiatives.
---
July 6, 2014:
Check it out! Centre Daily Times and StateCollege.com articles describe Discovery Space activities which were a big hit at the inaugural Ice Cream Festival in State College, which was sponsored by the Rotary Club of State College.
---
June 27, 2014
A list of local summer educational fun includes Discovery Space in this article by Tracy M. Dooms, Town & Gown contributor.
---
May, 2014: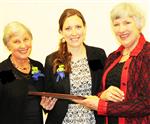 Linda Bailey and Allayn Beck were on hand at the AAUW State College Branch's spring banquet to accept the 'Gateway to Equity' award, presented by Suzanne Kerlin, AAUW Awards Committee Chair. Discovery Space is honored to be this year's recipient of this award, given to honor individuals, groups or organizations that have shown, by action and philosophy, that they advance equity for women and girls through advocacy, education, philanthropy or research.
---
March 19, 2014:
Discovery Space gets a nice mention in Movoto's "20 Things You Need to Know About State College Before You Move There"! See #3!
---
February 28, 2014
Wonderful Centre Foundation blog post Discovery Space earned by winning their Facebook contest.
---
February 24, 2014:
Penn State's EcoCAR2 team came to help celebrate National Engineers Week!
---
February 17, 2014:
Great Penn State NEWS feature about Discovery Space.
---
February 2014:
Mount Nittany Health sponsorship of Discovery Space and 'Eat Well, Play Well' exhibit featured in the Community Section of Mount Nittany Health Insights magazine.
---
August 1, 2013:
Centre Daily Times feature on the 'Design It, Build It, Use It: Discover Origami and Engineering' program which Penn State students helped to facilitate.
---
July 09, 2013
From Penn State IT Communications "Current": Local museum is giving kids an early dose of information technology