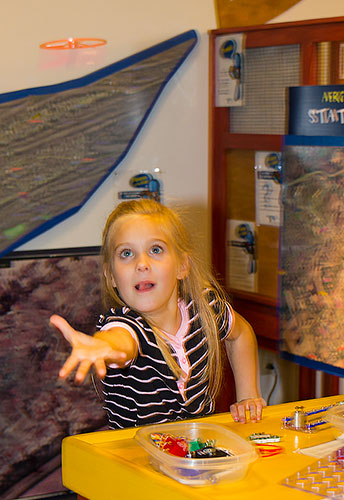 Why Become a Member of Discovery Space?
A one-year membership provides unlimited visits to Discovery Space's hands-on science exploration. Family memberships also provide discounts on birthday parties and programs.
Members also get free admission to hundreds of science centers worldwide through the ASTC Passport Program. Some restrictions apply.
Gift Memberships
A membership makes a wonderful gift – you are supporting the mission of Discovery Space, and member families receive unlimited visits and discounts for an entire year.
New Membership Levels effective April 1, 2018
For the first time since opening in 2011, Discovery Space is offering multiple levels of family membership, with additional benefits available. Members now have access to expanded programs and exhibits made possible by our move to a much larger space in 2017.
If you are joining or renewing a current membership, please check the new levels below to choose the one that best suits your needs.
Membership Levels
Benefits

Terrestrial

Basic Family

Stellar

Family

Galactic

Premium One

Quasar

Premium Two

Lunar

Individual

Cost per year
$90
$125
$250
$500
$65
ASTC Travel Passport
✓
✓
✓
✓
✓
1 or 2 named adults in a family plus their own named children/grand­children (up to age 18)
✓
✓
✓
✓
1 named adult plus 1 guest
Discounts on birthday parties and programs for all named children
✓
✓
✓
✓
Caregiver card on request
$35
$0
$0
$0
Free passes (one-time use)
4
4
6
2 free guests with each member visit
✓
✓
10% off gift shop purchases
✓
✓
10% off facility rental
✓
Apply for annual membership.
Join Today
Give the gift of science!
Gift Membership
Already a member?
Renew Today
If you prefer, print a membership application or renewal form and mail it, along with your check to:
Discovery Space
1224 N Atherton St
State College, PA 16803
Thank you!
---
Membership Policies:
Memberships are non-refundable, non-transferable and not valid on school visits.
Questions?
Please see our FAQ page. Additional questions – please call 814.234.0200 or email .