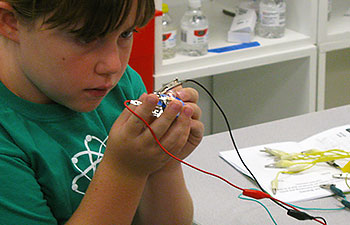 Your gifts, regardless of size, help us deliver our mission of providing interactive science experiences which spark creativity, curiosity, and imagination. Your gifts make a difference to our community!
Here are three ways you can make a contribution today:
Online — Make a contribution using our secure online donation form.
Make a Contribution
By Mail — Send your check to:
Discovery Space of Central PA
1224 N Atherton St
State College, PA 16803
Contact Us — If you would like to discuss other giving opportunities such as making a donation of securities, or becoming an Essential Element, please call us at 814.234.0200 or email 
Thank you for your support!
---
Learn about our exciting new campaign at our new website.
---
Community Access Program (CAP)
Discovery Space's Community Access Program gives community members, area nonprofits and social service agencies access to the science center. This program provides memberships and camp scholarships to families who could not otherwise afford them, and free admission passes to organizations who serve underrepresented groups. Donating to this fund allows Discovery Space to reach more families throughout the area.
---
Summer 2019 Science Camps Sponsorship
After 17 successful camps in 2018, Discovery Space summer science is back with 19 different science-themed camps in 2019!
We offer camps for children ages four to fourteen. Each camp is a mix of fun, science, technology, engineering, and more!
We rely on sponsors and contributions to help fulfill the mission of providing engaging science experiences which spark creativity, curiosity, and imagination.
We would like to offer you the opportunity to support these camps while promoting your business at the same time. Funds will be used for (among other things) camp operations, activity supplies and experiment materials, as well as scholarships for children who otherwise wouldn't be able to attend.
If you have questions or would like to discuss partnership opportunities, please contact Mary Schell at 814.234.0200 or .
Thank you for considering this opportunity!
While we greatly appreciate contributions of any size, the following levels provide the benefits listed below.
Please send sponsorship requests to Discovery Space as soon as possible. Thank you!
Sponsor Opportunities
Sponsor Opportunities

Platinum

$5,000

Gold

$2,500

Silver

$1,000

Bronze

$500

10% discount for employees on family memberships (valid until 12/31/2019)
✓
Recognition on Discovery Space signage and website (with link to your company's website) for a full 12 months
✓
Recognition on camp t-shirts
Prominent
Logo
Logo
Name
Recognition on signage at Discovery Space
Prominent
Logo
Logo
Name
Name
Featured on website, in e-news, and on Facebook page
✓
✓
✓
✓
Listing on camper information materials
✓
✓
✓
✓
---
Thank you to our generous 2018 Summer Camp sponsors!
Platinum Summer Camp Sponsor
Summer Camp Sponsors